Aquatics For Balance and Strength Training Webinar Recap
What physical or occupational therapist isn't looking for unique ways to safely improve patient outcomes while following scientifically-proven protocols? The recent webinar, "Use of Aquatics for Balance and Strength Training Programs," offered just that to viewers thanks to presenter Rachel McDermott sharing tips she's learned from her 18+ years as a PTA and 8+ years as the Director of Rehabilitation at Stonehill Care Center in Dubuque, Iowa.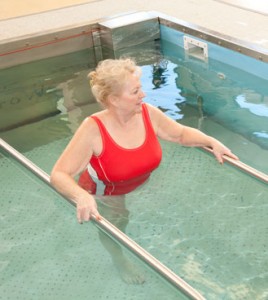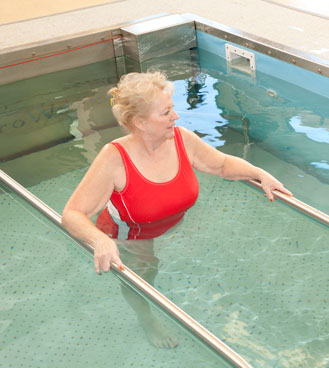 Jam-packed with information, the webinar was worth taking 60 minutes to learn from someone who fell in love with serving the geriatric population early in her career and continues to come up with innovative methods to address her patients' issues.
During the course of this presentation, McDermott touches upon areas familiar to any PTs or OTs working with aging populations. She also gives specific answers to common questions including:
What are the benefits of aquatics?
What is an ideal patient population?
What are some practical applications of aquatic exercises to the activities of daily living?
From her experience as a leader at a 250-bed CCRC in Dubuque, Iowa that includes independent/assistive living, intermediate care, skilled rehab-to-home, outpatient OT/PT/speech and wellness center, McDermott has a wealth of knowledge on this subject. When Stonehill purchased their HydroWorx 2000 Series therapy pool several years ago, she dove (pun intended) into aquatics, seeing it as a pertinent, critical opportunity for the people she serves. Today she's known for being an evangelist for water therapy, touting its advantages including versatility, safety, low-risk of falling and ease of functional transfers.
While presenting, "Use of Aquatics for Balance and Strength Training Programs," McDermott openly reveals several key tips to her organization's and department's success, including:
Water isn't just safe for residents and clients… it's also safe for PTs and OTs. Some patients are simply heavier than others. Transferring them in a land-based therapy environment can be tricky, if not risky. In the water, client weight is not an issue.
Nontraditional therapies make every appointment more enjoyable! What types of nontraditional therapies? One example is having patients mimic ADLs by putting on wet pants in water. This promotes core strength and flexibility and is a big challenge that has applications on dry land.
For those with variable depth floor therapy pools, changing the water depth is a great way to monitor and increase the progression.
It is possible to get surgeons and physicians to prescribe early water therapy interventions. The key is to use scientific research to support claims. In McDermott's years doing aquatic therapy, her facility has never had a problem with infection from the pool. As long as she keeps her pool's chemistry at correct levels and utilizes bioocculsive dressings when needed, she can be assured of creating a safe environment for her clientele.
Every patient needs a reward at the end of therapy, and that can be done with a deep tissue massage using the HydroWorx massage hose. It's a definite treat for a job well done!
People who dread land therapy tend to love the pool, which leads to higher compliancy. It's relaxing and pain-free.  Yes, they might get their hair wet, but as McDermott always says, it's better to have to get an appointment at the hairdresser than to miss out on PT and end up falling!
Interested in learning more about the benefits of warm water therapy for the aging population? Download our free tip sheet, "How Water Workouts can Reduce Falls, Improve Balance and Increase Muscle Strength," today!