Aquatic Therapy Makes a Splash at Life Enriching Communities
Today's post is brought to you by Jessica Hamm, Manager of Wellness Services at the Twin Lakes location of Life Enriching Communities.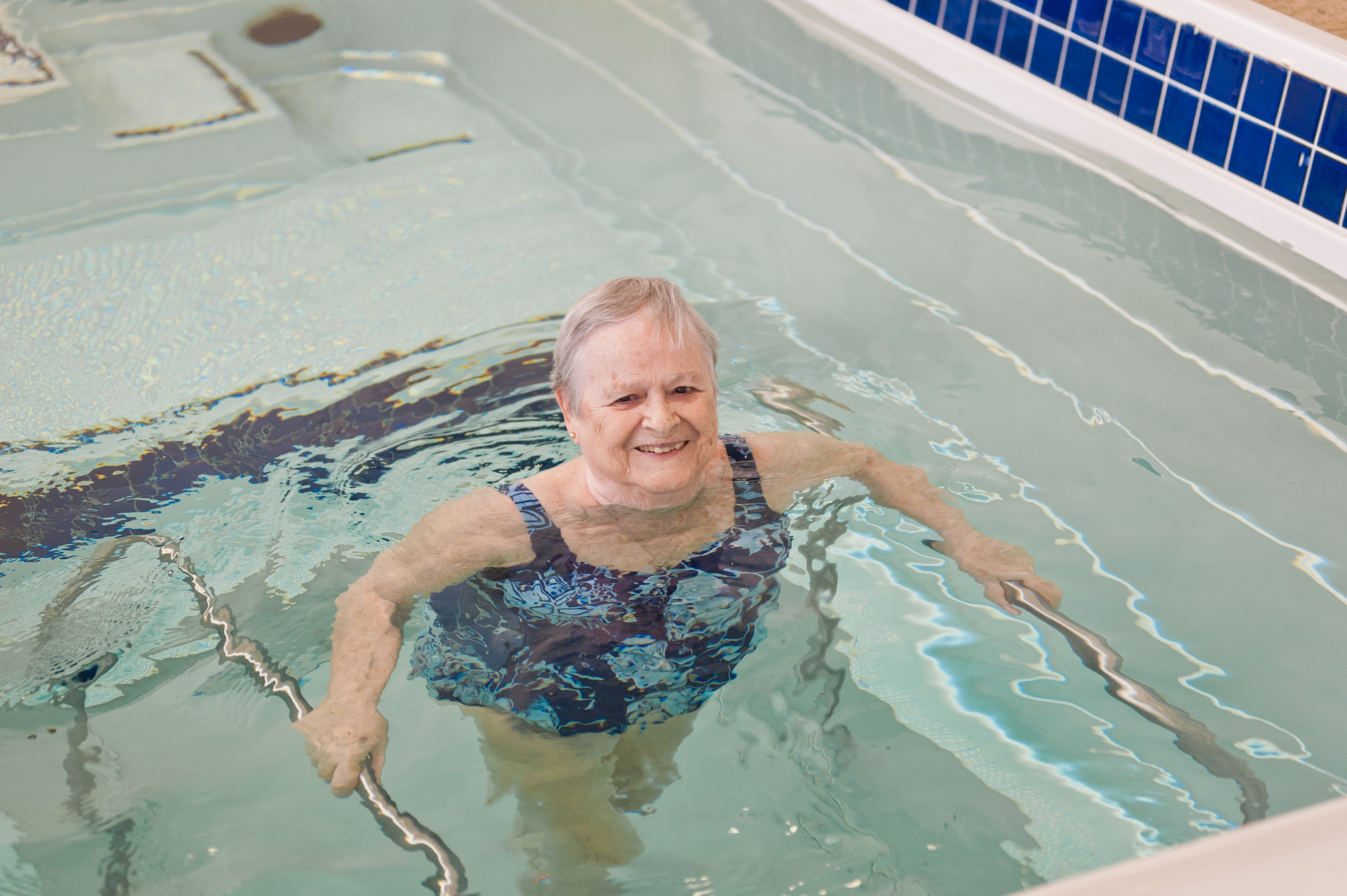 Twin Lakes is a Senior Living Community located in the Cincinnati suburb of Montgomery, Ohio.  The Connection is a vital aspect of our wellness philosophy at Twin Lakes, with programming that deals in many aspects of wellness. The Connection is the cornerstone of the wellness initiative at Twin Lakes.  It is a facility for older adults in the greater Cincinnati area which emphasizes whole-person health and wellness.  We have memberships available to residents of Twin Lakes and adults age 50 and older.  Membership includes access to our aquatic area, individual fitness room and a variety of programming that touches each of the six dimensions of wellness.  We have wellness and fitness experts available to help each member through their journey.
We emphasize whole-person wellness by encouraging our members to develop and balance the six dimensions of wellness: emotional, intellectual, physical, social, spiritual, and vocational.  We offer a variety of amenities to our residents and community members age 50 and older, including a fitness room and aquatic area featuring the HydroWorx underwater treadmill.
Our members benefit from the HydroWorx underwater treadmill because of the ease of use and physical benefit.  Our aquatic area is staffed, so members can receive instruction on the unit before getting started.  After this initial introduction, most feel confident to use the unit on their own to walk or exercise.   It's easy to use and many members feel the benefits right away.
We use a sign-up sheet so that members can reserve a time to use the treadmill.  It's popular in the mornings, many of our morning lap-swimmers choose to jog on the underwater treadmill for 30 minutes when it's available, as they finish up their laps.  Others choose to use the treadmill following one of our aquatic group exercise classes.   We have several members who joined simply because of our unique underwater treadmill and the physical and mental benefits it provides our members.  You can't find an underwater treadmill at every pool!
We have residents with arthritis pain who say that they could not use a treadmill on land because of the pain they experience in their joints.  With the treadmill underwater, residents experiencing arthritis pain can stand up straight and jog like they haven't been able to in years.
One member has said that she experiences arthritis in her hips; she can not use a treadmill on land because of the pain she experiences.  She is now using the HydroWorx underwater treadmill for over an hour with a variety of exercises to challenge her endurance and core strength.  She also uses the resistance jet stream to massage her lower back following her routine.
Many members choose to add exercise on the treadmill to their current routine, it allows for more variety and challenge.  The staff can instruct these members on new ways of walking or moving on the underwater treadmill for added value.  With the added resistance from the jet  our members find they can push themselves harder than they first thought they were capable of.
We had a resident with Alzheimer's Disease and he used to be a swimmer.  Part of his weekly routine was to come down to the pool for 45 minutes, twice a week.  He enjoyed the feeling of the water and the staff worked with him for months on simple stationary exercises, walking along the length of the pool.  Slowly he was unable to take these instructions, so we introduced the treadmill.  He was able to walk and speed up into a jog.  Once he started jogging, the movement came naturally and he really enjoyed the experience of moving freely in the water.  He would jog for 15-20 minutes without a break.  We didn't need to give him much instruction on the treadmill, the movement was natural.  His body did the work; his mind didn't need to process the information.  He seemed calmer and more focused while using the treadmill.  It was inspiring see the positive impact.  He has since passed away, but I will never forget the experience.
Free Educational Webinar. Sign up today!
Join presenters, Dr. Dennis Dolny and Dr. Eadric Bressel on January 22, 2014 from 1-2pm EST for the webinar titled, Aquatic Exercise Intervention for Patients with Osteoarthritis. In this webinar, Dr. Dennis Dolny and Dr. Eadric Bressel will present their research on aquatic exercise interventions for those suffering from Osteoarthritis. Their studies incorporate high intensity interval training in the water and various levels of water resistance to enhance postural stability and functional capacity in people diagnosed with osteoarthritis.
For more information and to register today, click here!