Aquatic Therapy Buoys Cancer Patients' Spirits, Bodies
Consistent, moderate exercise has been shown to be a critical element for those about to undergo, and those undergoing, cancer treatments. According to the National Comprehensive Cancer Network, staying physically active throughout radiation, chemotherapy and surgical procedures helps reduce treatment-related fatigue, increases flexibility and strength, improves movement, and controls weight gain and loss.
Request a Free Info Kit     View Our Products     Find a Pool Near You
Liz McDonald, Director of Therapy Services and Cardiac Rehab at Gove County Medical in Quinter, Kansas, has discovered just how powerful water exercise, during prehab and rehab, can be for cancer patients at her facility. In the past 12 months, she and her team have been asked to provide cancer rehab more and more often. To help patients, McDonald sent two colleagues to the Rocky Cancer Center for training in Colorado. This training certified them as Cancer Exercise Specialists, and they returned with a better understanding of how to help those battling a cancer diagnosis.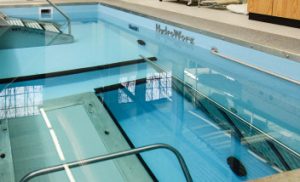 Though Gove County Medical's cancer prehab and rehab is all self-pay (insurance will not cover the cost of this type of prevention or intervention), many patients are willing to pay out-of-pocket to maintain an exercise program. One of the biggest advantages is that with the low impact of the water, they can get in a heart-pumping, strength-building workout without wear and tear on their muscles, joints and bones. And all the cardio has a specific benefit to the way their bodies deal with chemotherapy.
As McDonald explains, "That medication [chemotherapy medication] settles in your major organs. But if you can get up and get your heart beating faster… get your lungs going… it pushes the medication out into your system. You don't have those long-lasting effects of the medication."
Another advantage to aquatic therapy for cancer patients is that it's a viable option for people with other medical issues. One Gove County Medical client needs to be more active, but has knee issues that preclude her from tolerating any kind of land-based exercise routine. The patient's knee pain is indicative of a knee replacement, but that type of surgery has taken a backseat to cancer treatments. Fortunately, the patient can comfortably move in a HydroWorx 750 therapy pool, allowing her to feel better.
Ironically, McDonald stumbled upon the cancer-aquatics relationship, which mushroomed out of her organization's original plans to provide aquatic rehab to a niche market. Now, it's clear to her and her teammates that aquatic therapy is an excellent, viable option for those who want exercise before, during and after cancer treatments. As she concludes,
"I don't think we realized the extent of who and what we could treat in the pool initially. You have freedom of movement… strengthening without realizing it. They think they are just having fun [but] they are really working and the results are amazing. You can market that in so many ways!"
Ready to get started? We have developed a four-point tip sheet to give you a leg up on referrals. Learn what has worked for some clinic owners so you can benefit from others' insights and successes. Click here for the download.

Request a Free Info Kit     View Our Products     Find a Pool Near You
Page updated on: August 7th, 2020