A Jockey's Journey From Injury to Recovery
Riding thoroughbred horses for a living may be an exciting career, but professional jockeys know that behind all the pomp and circumstance, hazards lie in wait. Short-term, long-term and career-ending injuries are always a possibility.  Truly, the statistical data on jockey-related physical trauma is sobering, and perhaps more shocking than one might expect:
A three-year study of jockey injuries concluded that almost 20% of all the injuries were in the head and neck, followed by the back, foot, ankle and shoulders.[1]
During a 25-year span, the death of jockeys in Great Britain and Ireland were typically attributed to one or more of these injuries: subdural hematoma, cerebral hemorrhage or laceration, skull fracture, ruptured internal organ, traumatic brain injury, and/or lung laceration.[2]
In the United States, fractures, soft tissue injuries, dislocations and concussions are the most commonly reported jockey injuries.[3]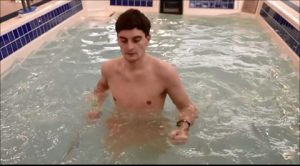 Yorkshire Jockey Henry Brooke has learned about horse racing injuries too well over the past few months. A freak accident that could have killed him left his body in an unstable, serious condition.  After a fall from his horse, a horse running behind kicked him while he lay on the ground.  Those kicks caused significant damage, including broken ribs, internal bleeding, a collapsed lung and shoulder problems.
While Brooke considers himself fortunate to be alive after what could have been a true tragedy in the professional jockey community, he's itching to get back into the saddle. After releasing himself from medical care, something his physicians were unhappy to see him do, he decided to get the best rehab he could at Jack Berry House.
Jack Berry House is known for its superior rehabilitation program. What innovative equipment is used within the Jack Berry House walls?  Plenty of modalities, including a state-of-the-art HydroWorx therapy pool with underwater treadmill floor and resistance jets.
In his mid-twenties, Brooke has incredible stamina and a drive that might put other athletes to shame. Each time he enters the HydroWorx, he puts ever-increasing demands on his body to perform at higher and higher levels.  With the buoyancy of the water as helpful support, he's been able to exercise more comfortably than he can on land.  His ultimate goal?  To return to the saddle in two very short weeks so he can compete in the early December Grand National fences.
It's a very lofty objective for someone who suffered such intense trauma only 6 weeks ago, but it's par for the course for this driven jockey who just won't quit. We'll continue to see how his progression goes thanks to his intrepid determination, not to mention the incredible power of aquatic therapy tools and the experts who are facilitating what could be an inspirational comeback.
To find out more about Brooke and his journey to health, read his story in-depth in this article from The Yorkshire Post that includes great footage and images of his demanding rehabilitation regimens.
[1] Waller, A E., J L. Daniels, Nancy L. Weaver, and P Robinson. "Jockey injuries in the United States." Jockey injuries in the United States, The Journal of the American Medical Association, Apr. 2000, https://www.researchgate.net/publication/12600593_Jockey_injuries_in_the_United_States. Accessed 17 Nov. 2016.
[2] Turner, M, P McCrory, and W Halley. "Injuries in professional horse racing in Great Britain and the Republic of Ireland during 1992–2000." British Journal of Sports Medicine, British Journal of Sports Medicine, Aug. 2002, bjsm.bmj.com/content/36/6/403.full. Accessed 17 Nov. 2016.
[3] "NIOSH researchers conducted a thorough medical and scientific literature review of existing research regarding safety and health issues for jockeys.", Centers for Disease Control and Prevention, https://www.cdc.gov/niosh/topics/horsejockey/pdfs/jockeys-fh-11.14.06.pdf. Accessed 17 Nov. 2016.