Aquatic Environments for Neurological Patients
The following blog post has been summarized from the recent presentation, "Aquatic Therapy for Individuals with Neurological Disorders" at APTA-CSM 2017 by Yasser Salem, PT, PhD, MS, NCS, PSC with the University of North Texas Health Science Center and Ellen M. Godwin PT, PhD, PCS with Long Island University.
There were a handful of beneficial aquatic presentations that took place in February at the Combined Sections Meeting of the American Physical Therapy Association (APTA). Among them, Yasser Salem and Ellen Godwin presented, "Aquatic Therapy for Individuals with Neurological Disorders" hosted by the Aquatic Physical Therapy Section of APTA. The presentation was supported by evidence-based research on the benefits of aquatic therapy for patients with neurological disorders.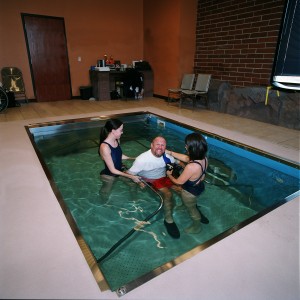 According to the World Health Organization, there is an estimated one billion people worldwide experiencing neurological disorders and the direct consequences contributing to disability and suffering. The specific causes of neurological problems vary but can include genetic disorders, infections, lifestyle and health problems such as malnutrition and brain injury. Some other common impairments seen in people with neuromuscular disorders are:
Parkinson's Disease
Multiple Sclerosis
Post Stoke
Spinal Cord Injury
Cerebral Palsy
Download the FREE tipsheet on how water workouts can reduce falls, improve balance and increase muscle strength here.
The efficacy of aquatic therapy for improving function in individuals with neurological disorders has received attention in recent years. Although there is a limited number of studies evaluating the effectiveness of aquatic exercise for patients with neurological disorders, those that have been conducted consistently demonstrate positive outcomes.
Request a Free Info Kit     View Our Products     Find a Pool Near You
Aquatic therapy as an alternative approach for neurological patients is a well-tolerated form of exercise. Aquatic therapy is recommended by clinicians as it is a great modifier to traditional treatment. The therapeutic potential aquatics is broad, extending from the treatment of injuries through health maintenance of diseases. The effects of aquatic therapy include but are not limited to:
Easier progression of weight-bearing
Enhances quality of life and well-being
Relaxes muscles and improves balance
Improves endurance and confidence
Relieves pain and muscle spasm
Enhances cardiovascular function
Benefits resistance training and improves muscle strength
Decreases joint stiffness and improves range of motion
Aquatic therapy provides a safe environment to encourage patients to begin practicing movements and functional activities in an upright posture against gravity before being able to perform these activities on land.  In the water, a variety of activities can be used and easily modified to accommodate a wider range of abilities.
A general reaction to aquatic therapy is precaution and contraindications from patients when aquatic therapy becomes a topic of discussion are precautions or contraindications such as fear of water and or seizures. Once the patients overcome the personal obstacles of getting in the water, the natural properties of water take over, such as buoyancy and viscosity, that offer an appropriate therapeutic environment that can be used to augment rehabilitation of patients with neurological disorders. The presentation supplied guidelines and activities to use such as balance and gait training for patients. The interventions and progressions of aquatic activities can be great ways to learn in order to progress to land.
Why an aquatic environment?
The relaxing effects of water and the warmth of the water reduce muscle tone and spasticity
Less pain with movement than on land
Allows patients to explore movement strategies and patterns against gravity (i.e. reduces anxiety and fear of falling)
Reduces the risk of fatigue during exercises
Positive psychological benefits of being able to do more in water than on land (i.e. motor skills, social skills and well-being/quality of life
Watch the aquatic rehab story of Jack, an 88-year-old with Peripheral Neuropathy:
Download our FREE tipsheet today to see the impact warm water therapy can have on the neurological population.
Page Updated on: August 7th, 2020