From ACL Reconstruction to League MVP: A Story of Rehabilitation Success.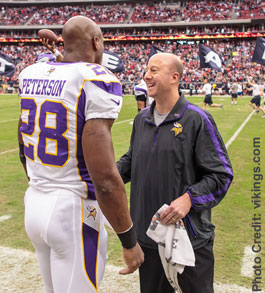 For any athlete that has been injured, it is a dream to come back from that devastating injury and have a successful season. For Adrian Peterson, his recovery was a fairy tale. After  Peterson tore his ACL at the end of the 2011 season, people began to wonder if he would ever be the same again. Eric Sugarman, Head Athletic Trainer, had the distinct job of working with him daily to get him back to the playing field.
Sugarman identifies three things that need to be taken into consideration to allow for an athlete to be comfortable immediately. It is important to make sure to control the swelling of the knee, restore the athlete's of his range of motion and prepare him and his body for surgery.
In the early stages after surgery, aquatic therapy can be extremely beneficial. Stephen LaPlante, Physical Therapist at the Andrew Institute lists some of the benefits of using a HydroWorx pool.
Water's hydrostatic pressure helps control the swelling of the affected areas, which allows for improvement with muscle function and joint mobility.
The buoyancy of the water enables the athlete to unload on the affected joint, allowing for the ability to move more freely without over-stressing the healing joint.
The pool lets the athlete begin to walk at an earlier stage of recovery without stress on the body.
With the underwater camera the athlete has the ability to monitor their gait pattern and make any necessary adjustments immediately.
"As soon as we were comfortable with Adrian using the HydroWorx pool we got him in there. We know that water therapy is very beneficial and the ability for Adrian to move in the water with very limited resistance was very, very helpful."

-Eric Sugarman, Head Athletic Trainer for the Minnesota Vikings
When Peterson began water therapy just 2.5 weeks after surgery he was able to begin walking at a speed of 2-2.5 mph without any pain or discomfort. This is something he would not have been able to do on land.
Along with walking on the underwater treadmill, the HydroWorx Pool allows an athlete to progress to other activities in the water. From running sprints to doing side shuffles and backward peddles, an athlete can do movements in the water that their body wouldn't allow them to do on land with less risk. Not only can they benefit from the underwater treadmill, but by using the HydroWorx massage hose, they can reduce scar tissue in the knee.
Peterson went from tearing his ACL in December 2011 to rushing for 2,097 yards in the 2012 season and becoming the 2012 MVP.
Watch The Inside Story of Adrian Peterson's Rehabilitation: