Hydrotherapy for Pro Athletes After ACL Reconstruction Webinar On-Demand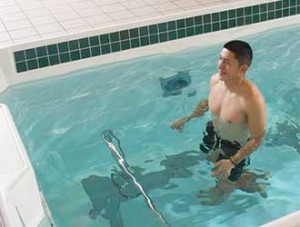 On January 14, 2016, we hosted a webinar titled, "The Use of Hydrotherapy in the Rehabilitation of Professional Athletes Post-ACL Reconstruction." In this webinar, Ryan Bitzel, MPT, Rehabilitation Coordinator for the San Diego Padres, located in San Diego, CA with a spring training facility in Peoria, AZ, presented on his aquatic therapy strategies used during ACL reconstruction for professional athletes, specifically baseball players.
Watch this webinar on-demand now>>
ACL injuries are becoming more common for athletes and come in many forms from a grade 1 injury to a complete ACL tear or avulsion. They can also be accompanied by other injuries and tears around the knee. In this webinar, Ryan focused on his general protocol for rehabilitation of a professional athlete from an ACL tear without other complications. He certainly uses land-based therapy through all stages of the rehab, but he complements the land therapy with aquatic therapy to enhance the rehabilitation.
"Timeline for return to play is still 6-9 months, however utilizing the pool tends to help keep the player's return closer to the 6 month schedule. There is better transition with functional return to play activities using the pool to reinforce neuromuscular recruitment patterns earlier."
Request a Free Info Kit     View Our Products     Find a Pool Near You
Ryan reviewed, in detail, some of the advantages of using aquatic therapy:
Specific Heat
Buoyancy
Resistance
Hydrostatic Pressure
Psychological Effect
For Grade 1 and Grade 2 ACL tears, Ryan suggested always trying conservative methods first. Many times surgery is preferred, especially for high level athletes or those with additional knee instability and always for Grade 3 ACL tears.
There are typically four phases of rehabilitation and Ryan's plan uses the HydroWorx 500 Series pool as an important piece of each phase. Ryan highlighted his strategy for each phase in detail. Here is a quick overview of the use of the pool in each phase.
Phase 1: Acute Post-Op (0-6 weeks) – focus on decreasing swelling and pain, achieve full ROM and endurance strengthening
Decrease pain and swelling
Restore range of motion (ROM)
Strengthen VMO (quadricep) to support knee
Phase 2: Sub-Acute Post-Op (7-12 weeks) – progress strengthening exercises until back to normal
Decrease any lingering pain and swelling
Achieve full ROM
Return to normal strength, increasing resistance and speed of movement to progress
Improve proprioceptive feedback to help prevent re-injury
Phase 3: Chronic Post-Op (3-4 months) –  motor control activities and functional strengthening to transition to land
Functional strengthening (in a safe low-impact environment)
Focus on cardiovascular training
Aquatic therapy is more intense in this phase to prepare the athlete for functional activities on land.
Phase 4: Return to Sport  (4+ months post-op) – sport specific activities
Return athlete to sport
Perform higher level sprinting and agility drills to properly recruit muscle firing patterns
Cardiovascular training
"Patient is doing a lot of work and doesn't really feel it since they are in an unloaded environment."
Ryan included details about aquatic exercises used in each phase of ACL rehabilitation and the differences in rehab depending on the position of the baseball player. The San Diego Padres are in great hands with Ryan Bitzel taking care of player rehabilitation both in San Diego, CA and in Peoria, AZ.


Following the webinar there were many questions:
Question and Answer Highlights:
Do you typically get the strength and conditioning team involved in the rehabilitation?
Yes – Our rehab strength and conditioning coach does mostly land-based stuff during this time. We try to get the players do what healthy players do for normal lift, but we'll modify accordingly. We work together when an athlete is in the pool to focus on form during pre-running drills to make any adjustments.
When would you start doing weight-bearing exercises?
Day one that they get in the pool (typically around 2 weeks) unless there is a meniscal repair that would limit weight-bearing.
What exercises to you use to decrease likelihood of reinjury?
Motor control and jumping activities in phase 3 in the pool to make sure they are able to absorb properly.
With an ACL reconstruction recovery, what is the best way to functionally train the hamstrings?
A lot of agility work in the pool such as jumping, crate jumps and lateral work.
Mentally – is there anything you do to help them get through that initial frustration or anger?
Most guys are pretty good. They are highly motivated, but anytime they are able to make small gains every single day will increase their confidence. That's why I do everything in a step-by-step fashion and don't move along to the next thing until they accomplish the first goal. This helps with their mentality as they accomplish small goals.
Request a Free Info Kit     View Our Products     Find a Pool Near You
Page updated on: July 9, 2020