5 Proven Ways to Get Your Residents in the Water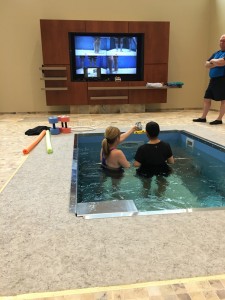 It's Active Aging Week – a week set aside by the International Council on Active Aging (ICAA) to celebrate the many ways that older adults can get moving and stay or become more active!
Find out how to get residents in the water and why it's important>>
This makes it a great time to celebrate the ways that water can help older adults and senior care residents achieve their fitness goals. These goals don't necessarily have to be ambitious as running a triathlon. Water activities on an underwater treadmill can be great for:
Balance and posture training
Improved muscle strength
Increased cardiovascular endurance
Weight loss
While aquatic activities can be beneficial for individuals of all ages, there is typically added value for aging adults, who often have aching joints, recent joint replacements or orthopedic injuries, arthritis, fibromyalgia or chronic pain. Combining the warmth of a therapeutic pool, with the buoyancy which reduces pounding on joints, residents often find they are able to move much more freely and without pain than they are on land.
The use of an underwater treadmill in warm water provides a similar experience to walking on land, so that any skills mastered in the water transfer easily to activities done on land. Resistance jets offer an added tool for balance training or skill progression along with massage benefits for aching joints.
Some of these benefits may be obvious to caregivers and physical therapists alike, but getting residents on board isn't always as easy. They may struggle to see the value, have a fear of water or even simply dislike wearing bathing suits. These objections don't necessarily prevent you from taking advantage of this great tool to improve their fitness levels.
Many experts have found ways to overcome these objections and make aquatic exercise fun and engaging. Once residents begin using aquatic exercise and start feeling better, doing things they haven't done in years and seeing results, it won't be hard to keep them coming back.
Download our whitepaper to find out 5 proven ways to get residents in the water and why it is so effective for seniors>>